Why sell with us?
A proven formula for success.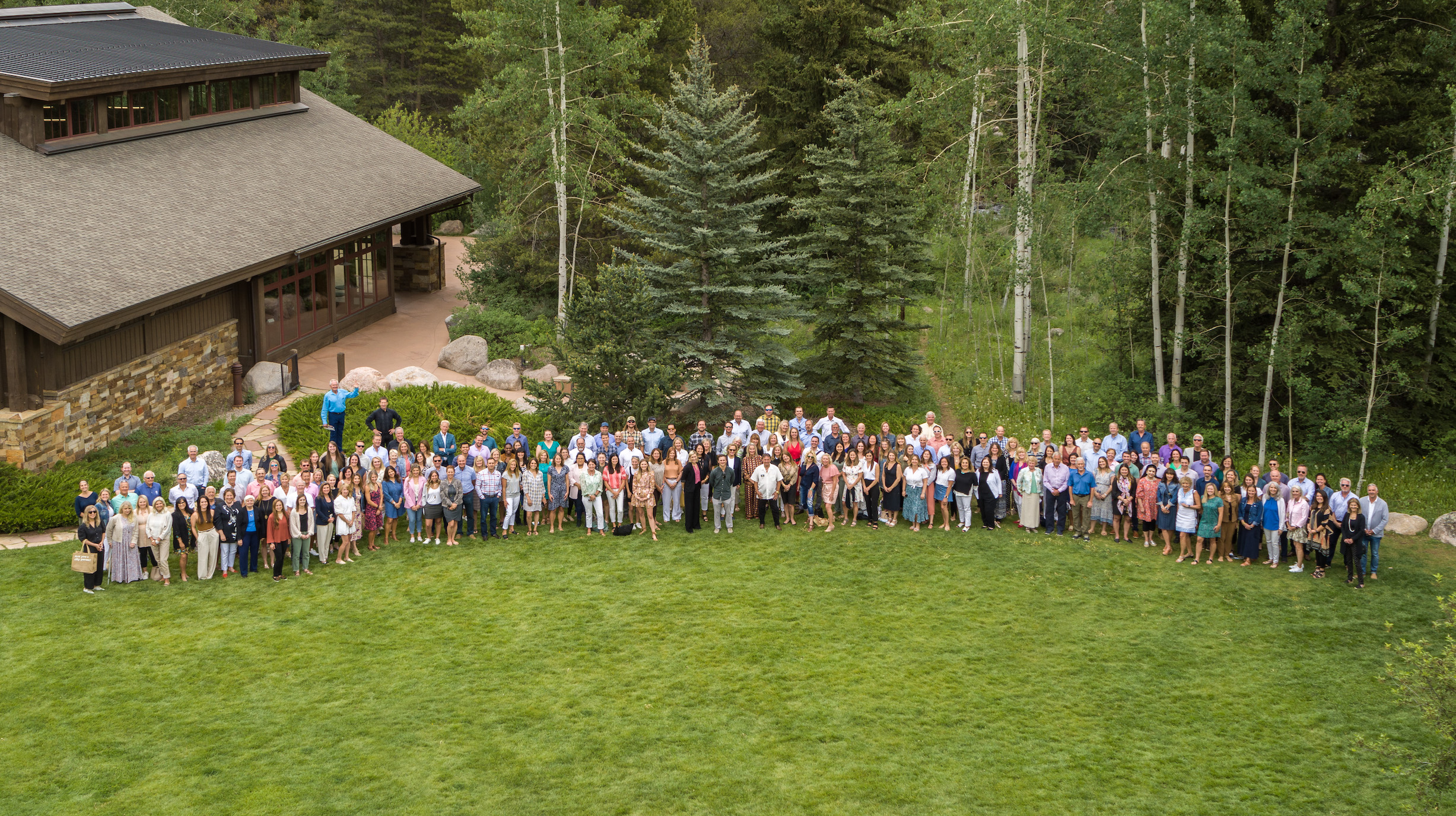 While 95% of homebuyers search for properties online, our expert network of 270 brokers across Colorado brings the attention to detail luxury listings demand. We are pros at balancing industry-leading digital tools and people power to market your home, leveraging our international reach and local word-of-mouth to gain maximum traction and attention from the right buyers for your unique property.
Backed by a robust support staff dedicated to every aspect of the selling process, we have the capabilities to expertly bring your listing to market and command top dollar including:
Experienced Office Branch Brokers
Local Office Coordinators
Marketing & Digital Strategists
Technical Support Staff
In-house Closing Experts
Personal Licensed Assistants
Sifer Smith & Frampton is a founding member of Forbes Global Properties, a luxury real estate marketing platform showcasing the world's finest homes to a worldwide audience of buyers and sellers of luxury properties through ForbesGlobalProperties.com. Additionally, through our direct access to the Forbes editorial team, we're granted exclusive features on our most notable listings, neighborhoods, communities and thought leadership.
The Listing Experience
Every home is unique, and therefore, every listing deserves a customized approach. Our full-time Marketing and Technology teams work with each broker to map out the right plan for your home including:
Cutting-edge website & property search features
Website tools for buyers & sellers
Professionally printed property brochures
Digital listing presentation
Exclusive professional photography
Premium property videography
Virtual home tours
Digital marketing
Email campaigns
Print marketing ​
Direct Mail Marketing
A great picture is worth millions.
There may be no more visual industry than real estate, and capturing high-end images and video of your property is key to attracting the right buyers.
In the spotlight.
In addition to our exclusive, external photography relationships, we enlist our own in-house photographer so we can get your property live in the MLS and in front of buyers immediately.
Birds-eye sales.
High-end drone footage highlights every angle of the spectacular homes we represent.
Video sells.
Homes with a video tour are proven to sell 40% faster. Our professional videography partner, Narr8 Media, creates premium, high-quality videos showcasing each listing in exquisite detail to share online with buyers world-wide.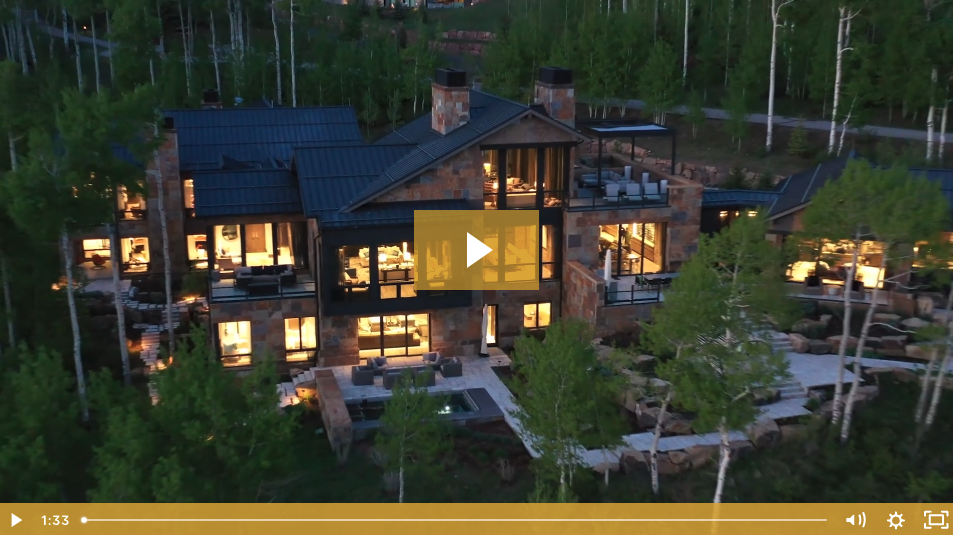 3D Virtual Tour.
For our most exclusive listings, we offer interactive 3D tours through Matterport, the industry standard for 360-degree virtual home tours. This allows anyone, anywhere to explore views from the private deck and tour every room as if they were physically there.

AMPLIFIED SEARCH
Through our network of websites, including VailRealEstate.com, the Vail Valley's top real estate website, we receive an average 2,400 visitor sessions per day, or 3.5 million pageviews per year. Along with a suite of proprietary and robust tools providing a best-in-class online search experience including:
The online experience
We recently underwent a complete site overhaul designed to maximize user experience across our digital presence, providing customized tools and easy property searches to engage a broader audience.
Website Account
Provides 24/7 online tools such as property alerts, market updates and area trend reports as well as the ability to favorite properties and search sold listings.
Individual Property Sites
Every listing receives a custom property website showcasing its individual features, photos and videos.
Seller Reports
Every seller receives an email report outlining all marketing activity, including feedback on showings and online traffic information to keep you informed throughout the process.
Extended Reach
Through our syndication program, your home is added to over 85 real estate websites within minutes of it being entered into the MLS.

Social Media
People spend an average of two hours and twenty-seven minutes a day on social media. Through our social platforms we ensure our listings and the lifestyle they offer are front and center to gain maximum eyeballs on each property.
The power of local.
With over 1.3 million visitors passing through the Vail Valley each year, being actively engaged on the ground is a core competency at Slifer Smith & Frampton. Along with 16 offices spread between East Vail and Gypsum, we also market broadly in local publications including the Vail Daily, Vail Beaver Creek Magazine, Vilar Center Program, Bravo! Vail Program and HOME Magazine as well as:
The Portfolio
Our in-house professionally printed magazine, exclusive to Slifer Smith & Frampton, is inserted into the Vail Daily every Saturday throughout the year. Featuring all of our active listings to a weekly readership of over 15,000, it's distributed to our 19 offices and hotels in resort markets for maximum exposure.
550k distributed annually | 17k inserted each Saturday in the Vail Daily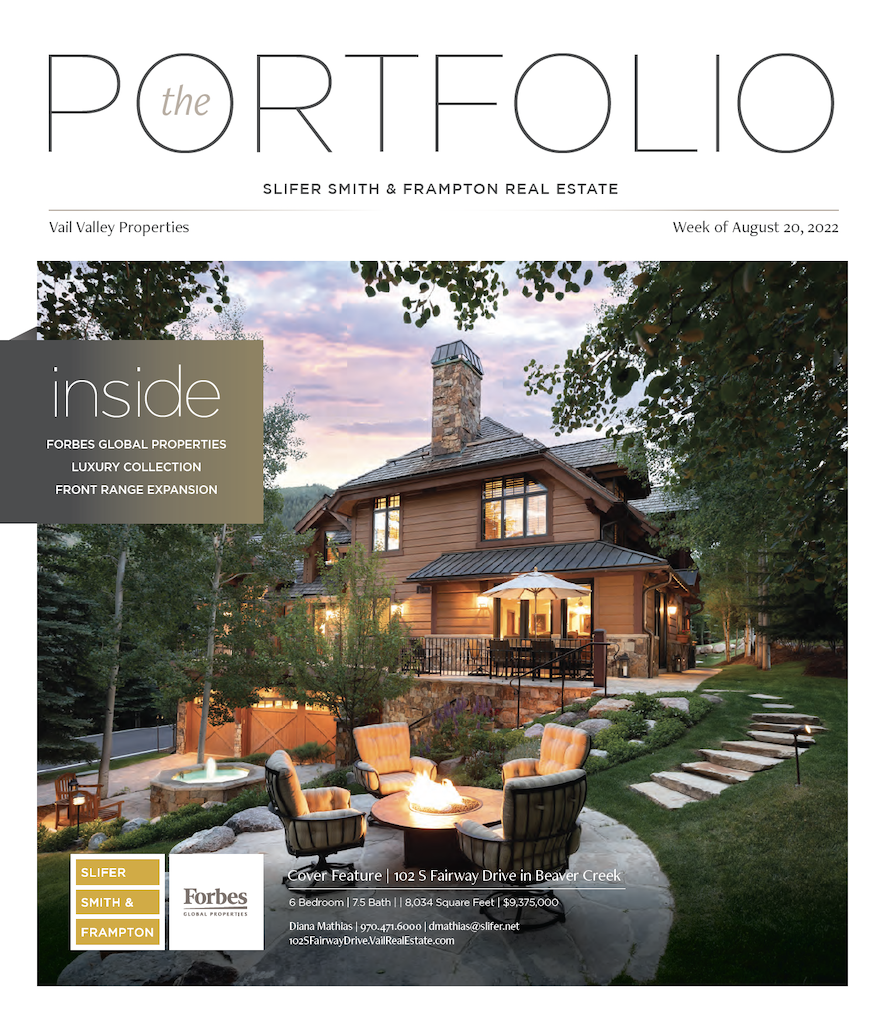 Direct Mail
Slifer Smith & Frampton believes strongly in the power of direct mail marketing. Our partnership with XpressDocs allows SSF to create professionally branded postcards and brochures featuring our properties, sent out to our extensive list of clients.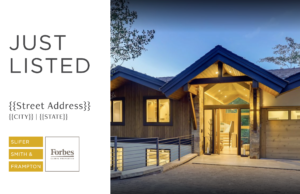 The Gold Standard
Our professionally printed, spiral-bound listing presentation booklet is used to accompany Slifer Smith & Frampton listing presentations, showcasing detailed information about our company – who we are, our experience, and details on how we can market and sell your property.
The Slifer Report
Our proprietary, quarterly report offers an in-depth look at the real estate market in the Vail Valley, broken down by area so you can easily find out how your neighborhood market performed.
---
Testimonials
" Thank you for making the selling of 304 Meadow Road as painless as possible.  Your advice and expertise were very helpful.  We appreciate that you took charge in a professional and caring manner, always leading us to a successful sale.  Because you were willing to answer questions and give us sound advice, we think you are the BEST.  We will miss our conversations.  Wishing you and Jack the best of health and happiness. "
- Seller | 304 Meadow Road
" Kathleen is so patient and professional! She is quick with responses to text messages and email too, which is so important during a purchase/sale and closing. I would highly recommend her to anyone thinking to buy or sell a home! "
- Firelight 203 LLC
" Kathleen, thank you so much for all your hard work on collecting all this ancient information on these properties. It is really nice to work with somebody so professional as you! "
- S.A.
" Integrity, market knowledge, legal skills, professionalism, patience; there aren't enough descriptors to credit Kathleen Eck. Her assistance in buying and selling property for me over the past ten years is simply astounding. I have adopted her as a friend and my realtor-for-life. Always upbeat and so tuned in to her clients needs and wishes, she is simply one of the finest human beings I have had the good fortune to know. "
- M.N.
" There are no words that are satisfactory enough to describe the way Kathleen Eck got the job done. No one else could have done it! "
- P.O.
" Kathleen rocks !!! "
- D. H.
" Kathleen is an exceptional broker and an amazing friend. I first worked with Kathleen on the purchase and sale of a condo in Eagle Ranch. She made everything easy and seamless so when it came to helping my husband and I find the perfect lot to build our dream home, Kathleen delivered exactly what we wanted. She provided us with local expertise and several options for building our mountain dream home and we couldn't be happier. Not only is Kathleen's real estate knowledge unmatched but she's the most genuine and caring person to work with. Thank you for all that you've done for our family! "
- Kam & Justin Bozich
" Kathleen Eck is by far the best broker we have ever worked with. She was not only professional and on top of every detail, but is just a wonderful person. She makes you feel like you're her most important client. "
- B.F.
" We recently completed our second transaction with our broker, Kathleen Eck. I can't say enough about how helpful she was throughout the process both times. She is extremely attentive to your needs and wants, and her responses to your questions are beyond timely. I would highly recommend her to anyone looking for a new property! "
- Firelight 203 LLC
" Well, it could not have happened without you. Barbara and I are forever grateful for your dedication and diligence in concluding the sale of our property. We know it was a challenge and could not be more pleased with the outcome. We sincerely appreciate all you did to make this happen. "
- D.Z.
" We were selling my parents property from out of state. Every imaginable complication seemed to find this transaction. Kathleen was part detective, part psychoanalyst, part mediator, part negotiator, part property manager--all while being wholly professional and a pleasure to work with. Her expertise in business and ease with people made it possible to bring all the moving parts to a successful close. We are extremely grateful for her counsel and help throughout this process! "
- H.R.
" Kathleen - Thank you so much for all your guidance and patience through the last 6 months. Your level of professionalism is incredible and you made the whole process go so smoothly. I'm especially impressed with how responsive you were post sale last weekend with helping me answer questions about the new condo. "
- D.P.
" Thanks for everything Kathleen, you helped us to get in and out of this adventure at G-4, and both times we were more than satisfied! "
- G.M.
" Kathleen Eck was wonderful throughout the entire process and helped us work thru some very challenging issues with the seller. She is a consummate professional on a level that we have not experienced with other brokers. As a lawyer, business executive and long time local in the valley she offers unique advantages to both sides. A great customer experience! "
- Mark Edward Robinson
" Thank you so much for all your time and dedication. Once again, working with you has been a pleasure! "
- M.V.
" It was a pleasure working with Kathleen. Her knowledgeable and indefatigable effort on our behalf resulted in the perfect home. Seek her out, you will enjoy this often daunting experience. "
- Susan Schnapp
" Kathleen is super-professional, informed and diligent. First-rate "
- Stefan M. Gavell
" Kathleen Eck is an outstanding Real Estate Agent. She is one of the nicest people you will ever meet and goes so far beyond the call of duty. She is extremely thorough, detail oriented, always very well prepared and knowledgeable on the market. She has many years of experience in Vail Valley and very deep relationships with all levels of professionals in the Valley. She is a great negotiator and has her ear to the ground to know what might be coming on the market or potential buyers that are not yet known. She has a 5 STAR +++++ rating by us. We are very grateful to have had her by our side throughout the purchase process. "
- Michelle and Craig Taylor
" Kathleen Eck made the process seamless and I felt supported selling my home on my own but with her guidance. I appreciated her desire to understand who I am and what my intentions are to ensure the best path was navigated. Thank you! "
- Jessica Waclawski
Previous
Next